Update
OUDTSHOORN NUUS - Die weermag-moordverhoor wat reeds in Maartmaand vanjaar begin het, is vandag weer uitgestel omdat nie Magdaleen Titus of Natasha Stuurman se regsverteenwoordiges betaal is nie.
Die verhoor is twee weke gelede uitgestel omdat adv. Holland Mostaque, Titus se regsverteenwoordiger, aangedui het dat hy steeds nie betaal is nie, maar teen 24 Mei sal weet wat sy kliënt se finansiële situasie is.
Die rondgaande hooggeregshof het vandag gehoor dat nie hy of Stuurman se prokureur, Chris Morgan, betaling ontvang het nie.
Morgan het egter aangedui dat hy vooraf bewus was van die situasie en sy kliënt die geleentheid gee om haar gelde bymekaar te kry.
Volgens beide die regsverteenwoordigers behoort hulle teen 15 Julie betaal te wees en sal hulle dan weer kan optree namens hul kliënte. Indien die twee nie betaal nie, is daar 'n groot moontlikheid dat hulle hulself moet verteenwoordig.
Titus het twee weke gelede by die regshulpraad vir 'n prokureur aansoek gedoen, maar het nie geslaag nie.
Staatsadvokaat Christhénus van der Vijver het vandag gesê dat die hof gyselaar gehou word deur dié twee verdagtes en dat dit onbillik is teenoor die belastingbetalers wat betaal vir Masithembe January (MJ) en Justice Mooi wat deur regshulpprokureurs verteenwoordig word.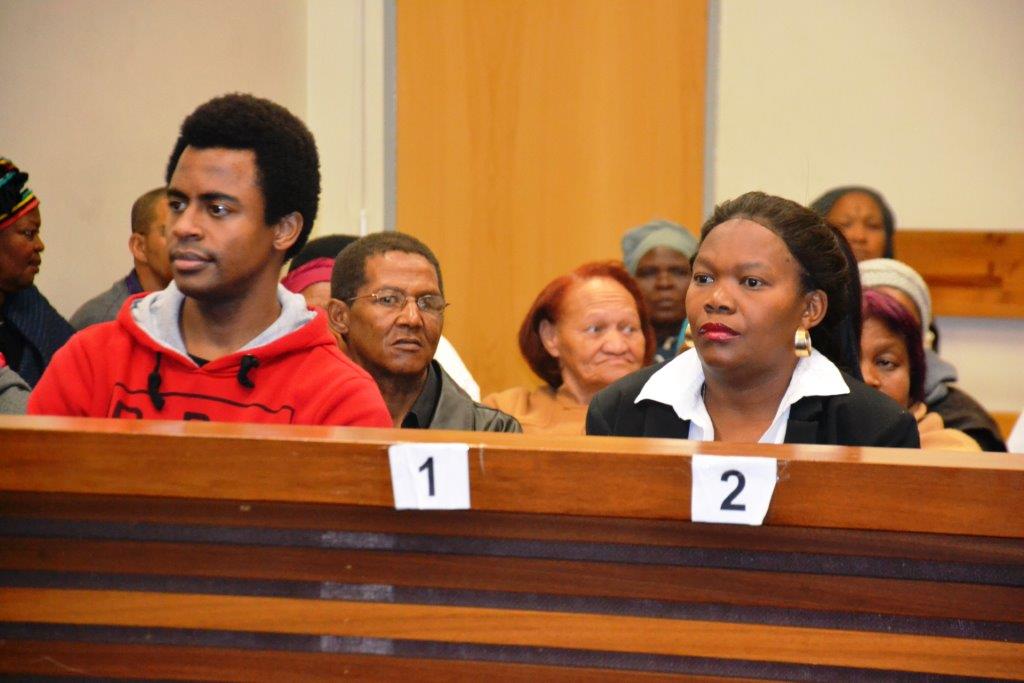 Justice Mooi en Magdaleen Titus vandag in die hof. Foto's: Liezl van Niekerk
Regter Nolwazi Boqwana het ook haar ongelukkigheid teenoor die situasie uitgespreek, maar het gesê dat die hof die twee beskuldigdes 'n geleentheid moet gun om hul finansies agter mekaar te kry.
Volgens haar het die staat ook verneem dat MJ se lewe gedreig word en dat hy moet vlug weens dié dreigemente. Sy het egter nie gesê op watter wyse hy gedreig word of deur wie nie. Sy het gesê dat die polisie ondersoek gaan instel rondom dié bewerings.
Sy het aan die beskuldigdes gesê indien hulle nie die fondse bymekaar kan maak om hul prokureurs te betaal nie, hulle hulself verder moet verteenwoordig want die hof kan nie weer vir dieselfde rede uitstel nie.
Boqwana het die saak vir verdere verhoor vanaf 26 Augustus tot 20 September uitgestel.
Die beskuldigdes is, van links: Justice Mooi, Magdaleen Titus, Natasha Stuurman en MJ.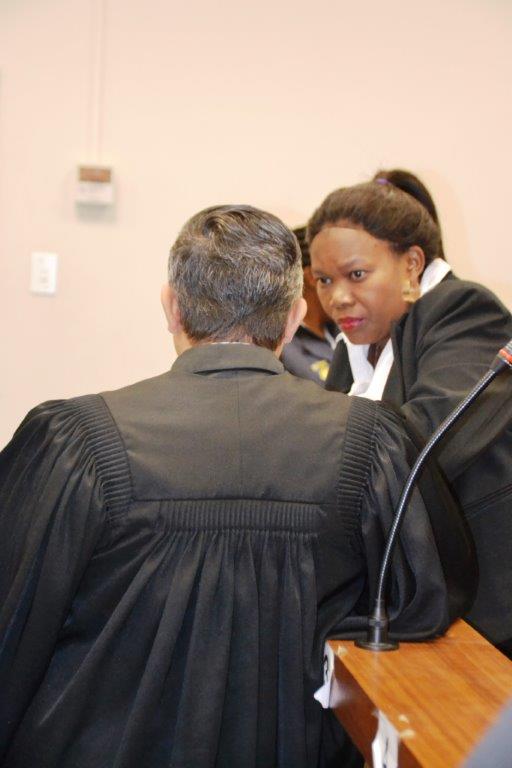 Magdaleen Titus praat na die hofverrigtinge met haar prokureur adv. Holland Mostaque.
Lees vorige artikels hier:
'Ons bring jou die nuutste Oudtshoorn, Klein Karoo nuus'