NATIONAL NEWS - A whopping total of 700 000 out of the 10,8-million South African Social Security Agency (Sassa) grant beneficiaries could not access their money last week due to technical problems.
The problems included over-the-counter limits where beneficiaries couldn't withdraw amounts over R1 500, strain due to the high number of people who had registered with the post office and difficulty with the line that connects SA Post Office's integrated grant payment system with banks' servers as part of the transaction processing.
A frustrated anonymous Sassa beneficiary who waited in a long queue for social grant payment at Pacaltsdorp Post Office last week Tuesday, said problems with pay-outs affect the poorest of the poor.
Sassa Acting District Manager, Nozuko Nonkonyana, said Sassa experienced technical problems with the South African Post Office (Sapo) system. "Some cards were not correctly configured, notwithstanding the fact that Sassa had already deposited the amount into beneficiaries' accounts."
According to Nonkonyana, the problems were limited to beneficiaries with the new Sassa cards. Nonkonyana said the Sapo system has now been corrected nationally and Sassa employees will be on duty at the next pay-out date to smoothe out difficulties that might arise. Sassa pays more than 12-million beneficiaries each month.
The new Sassa card is an improvement on the old card and it does not allow deductions for things such as airtime, loans or prepaid electricity. The new card also allows three free cash withdrawals at points of sale, one free withdrawal at the post office per month, free swipes at points of sale and is accepted by all ATMs displaying the VISA sign.
Sassa is running a card swap project that allows beneficiaries to swap their old cards for the new card. This process has been impacted by the national post office strike that started on Friday 6 July.
Sassa hopes the negotiating parties will reach an agreement very soon so that deserving vulnerable people can acquire the new Sassa card without difficulty and enjoy its benefits.
Western Cape Sapo spokesperson, Martie Gilchrist, said that Sapo stakeholders are meeting with government today, Thursday 12 July, to find ways of developing a sustainable solution and it is still unsure whether the post office strike will be settled by the next Sassa pay-out date.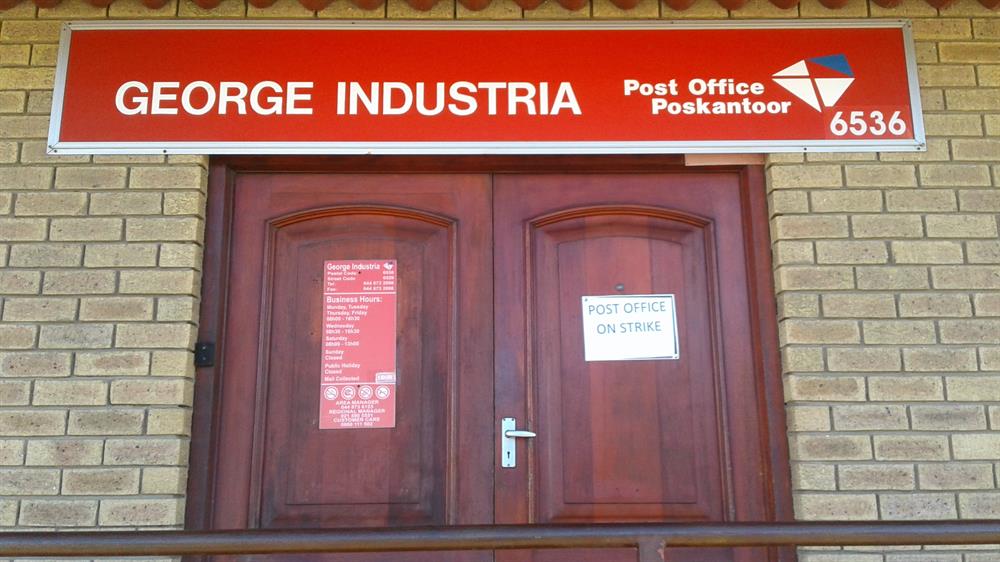 The post office in the George Industria was closed last Friday afternoon due to the national post office strike. Sassa hopes the negotiating parties will reach an agreement soon.
Beneficiaries who encounter any problems can contact Sassa toll free on 080 060 1011 or inbox Sassa on social media. In extreme cases, Sassa will provide social relief of distress in the form of food parcels to those encountering problems with accessing their grants.
'We bring you the latest Garden Route, Hessequa, Karoo news'