Update
OUDTSHOORN NUUS - 'n Nadoodse ondersoek op die liggaam van George Pietersen (Pappa Fix) wie se liggaam meer as 'n week gelede naby Dassieweg gevind is, het bevind dat die oorsaak van sy dood toegeskryf kan word aan bytwonde.
Sersant Gretchen Michaels, woordvoerder van die Oudtshoorn-polisie het in antwoord op 'n navraag gesê dat die oorledene omgekom het as gevolg van trauma aan die nek wat deur 'n hond of honde veroorsaak is.
Met verlede week se beriggewing oor die voorval was familielede van mening dat die oorsaak van sy dood dalk 'n aanval deur 'n persoon of persone kon wees.
Familielede van die ontslape Pietersen (69) het verlede Vrydagoggend 'n kranslegging by die toneel waar sy liggaam die vorige week langs die munisipale-depot in Dassieweg gevind is, gehou.
Pietersen se liggaam is die betrokke oggend deur twee werkers op pad werk toe gevind. Sowat 50 familielede en vriende het die kranslegging bygewoon.
Pastoor Colin Lucas het die woord van bemoediging by 'n groot bloedkol wat vermoedelik Pietersen se bloed is, op die oop stuk veld gebring. Daarna het die gevolg beweeg na die plek waar die liggaam deur die polisie gevind is.
Pietersen se seun, Colin Bennie, het sy pa se wrede dood veroordeel en gesê dat dit weereens 'n bewys is dat onskuldige inwoners nie meer veilig en vrylik kan beweeg nie.
"Die dood staan een of ander tyd voor ons almal se deur. Koop die tyd uit om mekaar te waardeer en respek te toon aan almal ongeag jou agtergrond of ras. Baie dankie aan almal wat tyd gemaak het om die kranslegging by te woon - dit word verskriklik baie waardeer."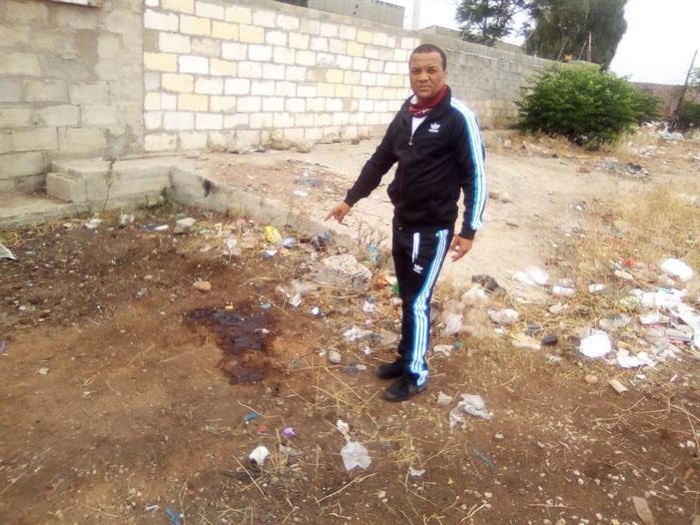 Jonathan Moos, familielid van Pietersen, by die plas bloed die dag nadat die liggaam gevind is.
Vorige artikels:
'Ons bring jou die nuutste Oudtshoorn, Klein Karoo nuus'