Gallery
OUDTSHOORN NUUS - Die nuutgestigte nie-winsgewende sportorganisasie, Sport Buddy, se eerste gholfdag verlede Saterdag by die Oudtshoorn-gholfklub was 'n reusesukses met R10 000 wat genereer was vir Anike Thom (leerder van Laerskool Wesbank wat eersdaags New York toe gaan vir 'n internasionale modelkompetisie) en Kamva Qusheka (leerder van Langenhoven Gimnasium wat volgende jaar na Sri-Lanka reis vir 'n kriekettoer).
Tydens die prysuitdeling het dié organisasie R5 000 elk aan Thom en Qusheka oorhandig.
Inskrywingsfooie het R200 per persoon beloop met die spelers wat in die Individuele Stableford-formaat meegeding het. Zane Kircher, voormalige Springbok-heelagter, en Ian Laubscher, plaaslike munisipalitietsamptenaar (sportdepartement), was deel van die bykans 74 spelers wat op diè dag afgeslaan het.
Kircher het ook sy Springbok-oefentrui aan Sport Buddy geskenk sodat dit op 'n latere stadium opgeveil kan word. Al dié pryse van die gholfdag was deur verskeie organisasies en besighede op Oudtshoorn geborg. Viviers Strauss was die speler wat met 'n telling van 42 punte koning gekraai het. Hy het in die proses verskillende pryse ter waarde van R2 500 gewen.
Gratis gebraaide boereworsrolle, voorbereide water, koeldrank en alkoholiese en nie-alkoholiese verversings op die 12de putjie het ook bygedrae tot 'n heerlike sosiale gees wat regdeur die dag geheers het.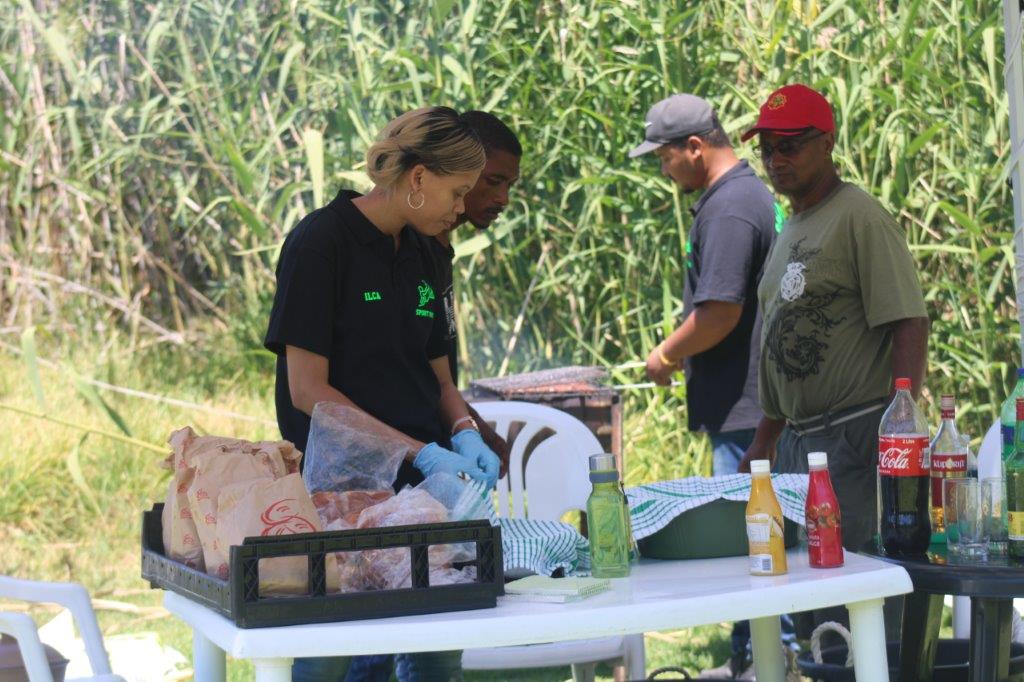 Gratis gebraaide boereworsrolle, voorbereide water, koeldrank en alkoholiese en nie-alkoholiese verversings op die 12de putjie
In sy toespraak het dié organisasie se stigterslid, Wyndham Ewerts, gesê dat Sport Buddy op die been gebring is om alle belowende sportleerders in die Oudtshoorn-omgewing dwarsoor die kleurgrens finansieël of op enige ander manier te ondersteun.
"Ons almal is gebore met Godgegewe-talente en die onus berus op onsself om daardie talente ontgin. In sommige gevalle trek die ouers van uitsonderlike talentvolle leerders egter noustrop wanner dit by die finansiering van hul kinders se onderskeie sportkodes kom en dit is juis hier waar Sport Buddy 'n helpende hand wil uitreik.
"Die jeug is die toekoms van die dorp en hul prestasies (sport of akademies ) is van onskatbare waarde om ons pragtige dorp (Oudtshoorn) nasionaal en internasionaal te bemark".
Ewerts het ook sy dinamiese span, Sue-Lanya Ewerts (voorsitter), Danielle Hefke (admin), Byron Michaels (logistiek) en Ilca Ewerts (spyseniering), geprys vir hul rol in die puik organisering van dié gholfdag. Sport Buddy beoog om twee projekte in die onmiddelike toekoms te loods en enige organisasie wat 'n borgskap of finansieële bydrae wil lewer kan 084 025 6698 skakel of 'n whatsapp-boodskap na 084 794 5936 stuur.
'Ons bring jou die nuutste Oudtshoorn, Klein Karoo nuus'