OUDTSHOORN NEWS - The 2018 Rhodes Dryland Traverse drew to a close at De Hoek near the Cango Caves on Sunday. The event brought 370 adventure-seekers to the Klein-Karoo for four epic stages of trail running. The solo male category was won by 22-year-old Robert Rorich in a time of 5:34:05.
"I love the people that come together for this event. Dryland also makes everything so easy, all I have to do is bring my bag and have fun, everything else is sorted. The food, race village and vibe in the tent every night is incredible. It's a surreal experience to explore these mountains for a few days with 400 people who enjoy that kind of thing as much as you," said Rorich.
Over four days runners were exposed to unique features of Klein-Karoo landscape like the UNESCO World Heritage site of the Swartberg Mountains, Cango Caves and Raubenheimer Dam.
Two local athletes, Etienne Plaatjies and John April, won the male teams category. They were part of seven local runners sponsored by Rhodes Food Group, the main sponsors of the event. Plaatjies balances his trail running dreams with a job as a security guard, and squeezes in training sessions at extreme hours in between long shifts. As no stranger to the sport, Plaatjies was the first coloured male to become the 800m South African Champion in 2010.
"It's an incredible experience to be welcomed by this trail running community who encourages and enables you to pursue your dreams. It makes me want to reach for more in this sport and gives me a platform to encourage the youngsters looking up to me. John is feeling so motivated - he even told me he wants to enter the Comrades next year!" said Plaatjies.
Taking the title in the solo female's category was Jo MacKenzie, who completely dominated her class in a time of 7:39:36.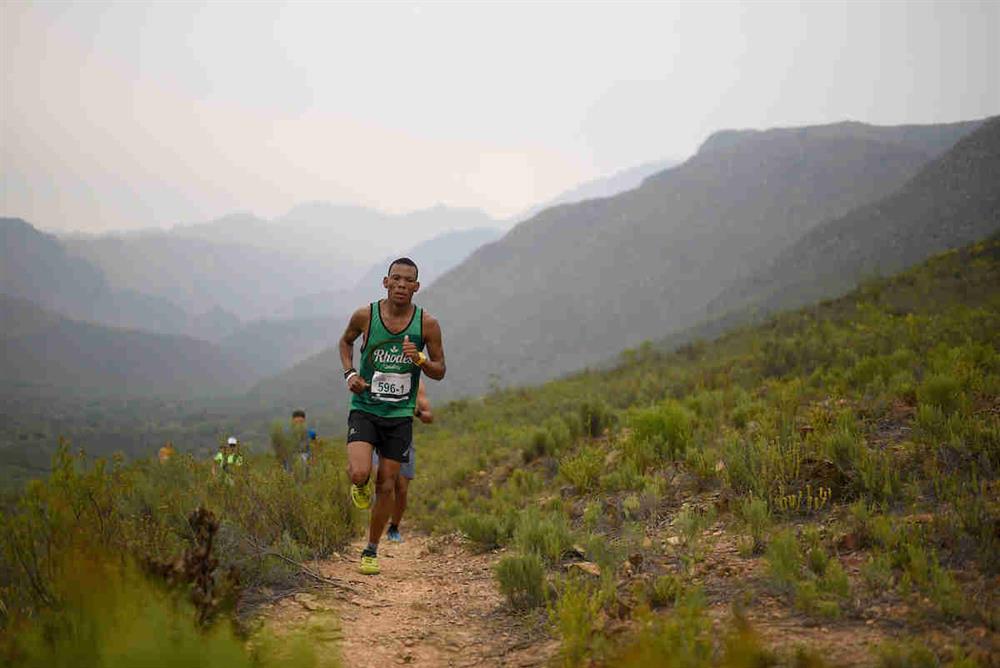 Etienne Plaatjies on the trail during stage 3.Photos: Carli Smith.
'We bring you the latest Oudtshoorn, Klein Karoo news'