Update
VERMAAKLIKHEID NUUS - Status: 60% contained with two active flanks and several hot lines.
Good work was done last night to contain as many lines as possible with the priority the protection of the Vermaaklikheid (structures). During the night a huge area was burned out to make the area safe. This morning two active lines were reported.
The Incident Command Team has planned for another very hot day with continuous wind direction changes. Well-equipped teams with aerial support were successful deploy after a safety briefing. The teams have strong IMT in support.
As expected several serious flare ups are continuously battled in extreme heat conditions and challenges are to be expected and that is what we planned for. The IMT team is confident that with the resources available these challenges can be contained.
Resources for the day are as follows:
- A South African Air Force Oryx
- One Spotter plane
- Two Bomber planes with each a 3000l capacity
- 97 Working on Fire ground crew members
- 30 professional fire fighters
- Four Fire Protection Association senior members
- 10 Gou Kou Farm watch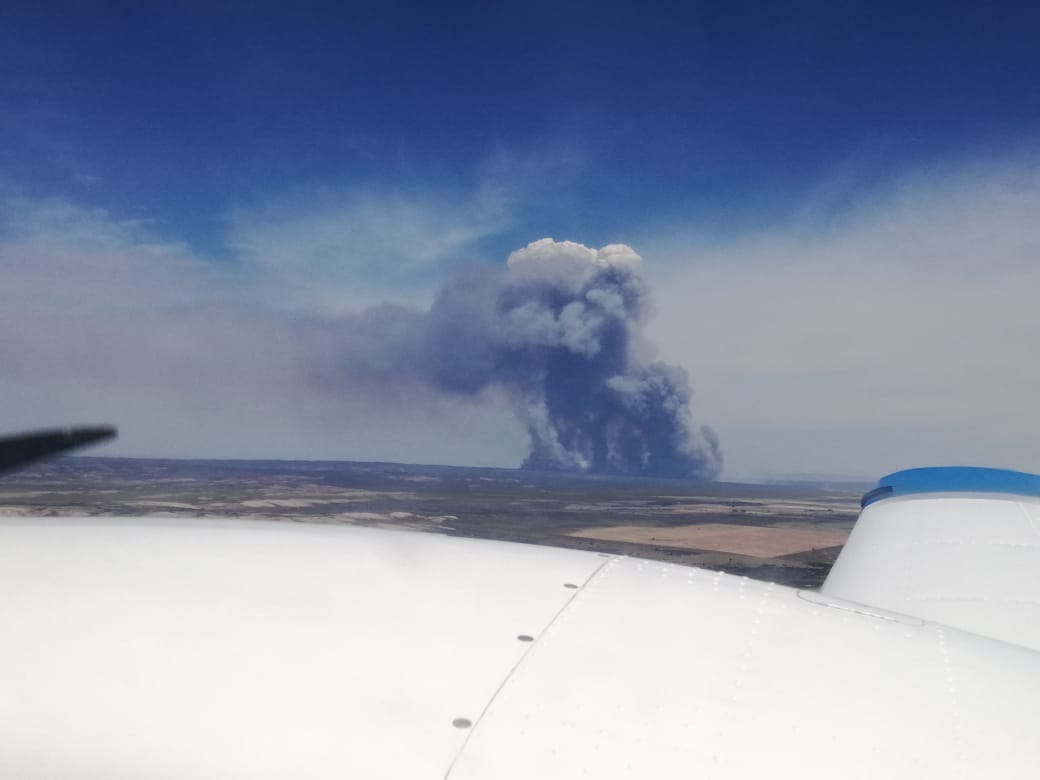 The smoke of the fire seen from an aeroplane.
Losses and damages
- Infrastructure lost (8 structures).
- Loss of human life (1 person died when a WoF helicopter went down around 09:45 this morning. Contact WoF for more information).
- Large areas of sustainable harvest Fynbos and wildlife grazing lost and significant damages to fences
Donations can be dropped at the "Handelshuis" in Riversdale; Putstop (R305); Engen Stilbaai; Engen Heidelberg; Engen Albertina and "Op die Plaaspadstal" N2. Thank you to the refreshment and other incidentals received thus far.
The IMT wants to thank the political and operational arms of the Eden and Overberg District Municipality, Hessequa, George and Mosselbay Local Authorities and the Provincial and National Disaster Management centres. A special note of thanks to the Enviro Wildfire Services under the leadership of Mr Rob Erasmus – their selfless service and dedication saved several structures the past two days.
Full update with a burn area map will be issued at 19.00 tonight.
Read previous articles here:
'Ons bring jou die nuutste Vermaaklikheid, Hessequa nuus'