Gallery
OUDTSHOORN NUUS - Uit die 48 WKOD-skole in die Eden- en Karoo-distrik wat die 2019 eindeksamen geskryf het, het slegs vyf van die skole 'n 100% slaagsyfer.
Hulle is Laingsburg Hoërskool, Langenhoven Hoërskool (Riversdal), Outeniqua Hoërskool, Shalom Akademie en Wittedrift Hoërskool.
Die top vyf hoërskole in die Oudtshoorn-streek is Hoërskool Oudtshoorn (99,1%), Langenhoven Gimnasium (99,1%), De Rust Sekondêr (98,1%), Fezikele Secondary (88,6%) en Dysselsdorp Sekondêr (88,4%).
Die Oudtshoorn Courant se verslagspan het vanjaar van die skole in die Oudtshoorn-omgewing tydens die aankondiging van die uitslae besoek.
Hoërskool Oudtshoorn
Struisies se matrieks van 2019 het rede om trots te wees. Van die 110 wat geskryf het, het 109 geslaag. Die feit dat hulle 'n slaagsyfer van 99,1% behaal het, is volgens die hoof, Gerrit Rudolph, reeds 'n uitstekende prestasie, maar die groter prestasie is dat 85 van die matrieks universiteitstoelating het en dat daar 18 A-kandidate is.
Struisies se top vyf leerders is Wian Böhme (88%), Alisha Muller (86.41%), Vicky Dreyer (85.71%), Daniël Bester (85%) en Laureka Wallace met 84,71%. Drie leerders lê gesamentlik sesde met 84,29%. Hulle is Tamzin de Lange, Karla Human en Rahma Mohamud.
Langenhoven Gimnasium
Gimmies spog ook met 'n 99,1 % slaagsyfer. Hulle het 115 matrieks gehad wat die 2019-eindeksamen geskryf het.
Die skoolhoof, Stephanus Potgieter, het gesê hulle spog met 11 A-kandidate, 17 B-kandidate en 33 C-kandidate en 'n graadgemiddeld van 62,5%. Hulle top A-kandidate is Sharé Lund (90.0%), Christo Stemmet (85.7%), Liza Human (85.1%), Zelna Hugo (82.9%), Gerhard van Lill (82.3%), Mia Erasmus (82.0%), Natasha Williams (82.0%), Elizmaré Victor (81.9%), Mikal Bester (81.6%), Caroline Guder (81.0%) en Johanné van Druten (80.6%).
Môrester Hoërskool se matriekulante. Foto: Garnett Wicomb
Fezekile Secondary
Anica Galand (72%) en Buyambo Tyatya (70,2%) were the school's top students. Galand finished with three distinctions in Life Orientation, English First additional language and Economics, while Tyatya managed two distinction in Economics and English First additional language.
Only 35 students enrolled for the 2019 final matric exams and only four learners failed giving Fezekile High School a pass rate of 88,6%. In general 17 learners achieved university exemption.
Tyatya plans to study Computer Science at NMMU and Galand will study B.Ed at Potchefstroom University to become a teacher.
Bridgton Senior Sekondêre skool
Bridgton Senior Sekondêre skool het vanjaar 'n algemene slaagpersentasie van 81,6% behaal. Altesaam 173 leerders het die eksamen afgelê waarvan 39 nie die paal gehaal het nie.
Die skool spog ook met 57 leerders wat matrieks universiteitstoelatings het. Die skool het ook, soos verlede jaar, 'n kontantbedrag vir die toppresteerders gegee.
Die skool se twee toppresteerders was Lauren Middlecamp, wat slaag met vier onderskeidings in Engels, lewensorientering, besigheidstudies en ekonomie en Fébe Boois wat slaag met drie onderskeidings Afrikaans, Engels en lewenswetenskappe.
Middlecamp beoog om aan die Universiteit van Stellenbosch te studeer (B.Rek) terwyl Boois mikrobiologie by die Universiteit van Vrystaat gaan studeer.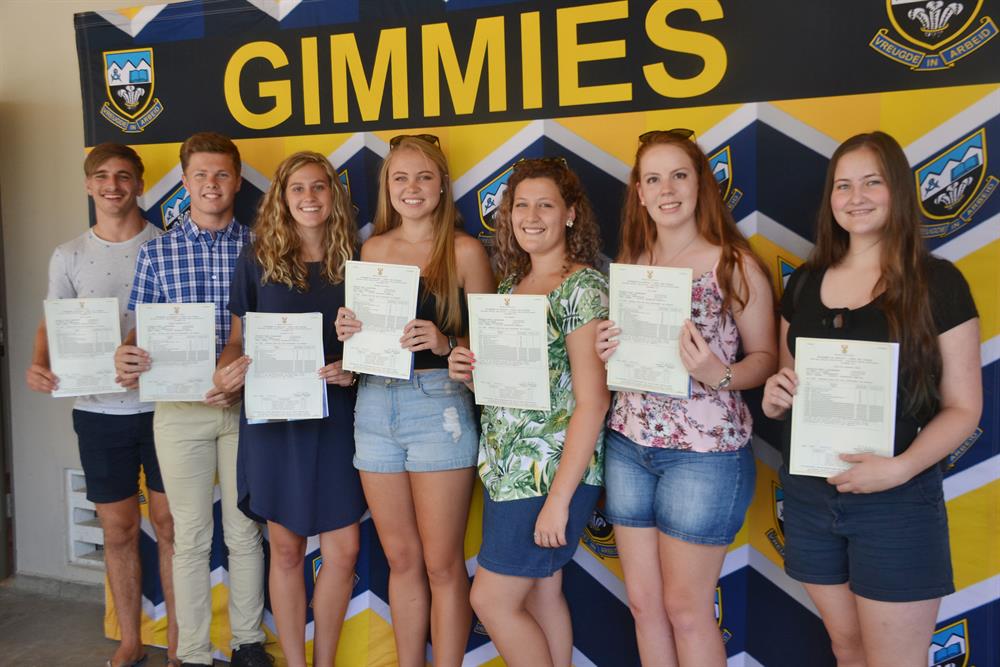 Gimmies se topmatrikulante wat by die skool was, is van links: Christo Stemmet, Gerhard van Lill, Elizmare Victor, Johann van Druten, Mia Erasmus, Liza Human en Caroline Guder. Afwesig: Sharé Lund, Zelna Hugo en Mikal Bester. Foto: Liezl van Niekerk
Die slaagsyfer van die skole in die Groter Karoo streek is as volg:
Aurial Kollege: 68.8%
Beaufort-Wes Sekondêr: 80.5%
Bridgton Sekondêr: 81.6%
Calitzdorp Hoërskool: 73.2%
De Rust Sekondêr: 98.1%
Dysselsdorp Sekondêr: 88.4%
Fezikele Skondêr: 88.6%
Haarlem Sekondêr: 89.6%
Ladismith Hoërskool: 93%
Ladismith Sekondêr: 89.2%
Langenhoven Gimnasium: 99.1%
Môrester Sekondêr: 79.5%
Oudtshoorn Hoërskool: 99.1%
Shalom Akademie: 100%
Uniondale Hoërskool: 67.3%
Zwartberg Hoërskool: 57.4%
'Ons bring jou die nuutste Oudtshoorn, Klein Karoo nuus'