OUDTSHOORN NUUS - Heartbeat FM, 'n Christelike radiostasie, maak nou van nuwe tegnologie gebruik om hul uitsendings op hul eie kanaal lewendig te kan uitsaai.
Pastoor Christo Nel, Heartbeat FM Oudtshoorn-tak se bestuurder, sê te danke aan die nuwe kameras in hul ateljee kan hulle nou alles wat hulle oor die radio uitsaai ook lewendig op hul Facebook-blad en YouTube-kanaal uitsaai.
Nel het Maandag 'n onderhoud met Bennedette Landman, 'n Mev. Heelal-finalis, gedoen wat lewendig uitgesaai is. Sy het luisteraars oor haar pad in die kompetisie vertel en ook hoe haar geloof haar gebring het tot waar sy vandag is.
"Wanneer ons onderhoude doen sit ons in 'n virtuele studio wat deel is van ons regte studio," sê Nel.
"Ons het 'n groen agtergrond, maar wanneer die kykers die uitsending kyk, lyk dit of ons in 'n nuuskamer sit soos wanneer die nuus op televisie uitgesaai word."
Volgens hom gaan hulle ook die tegnologie gebruik om hulle daaglikse radio-uitsendings lewendig op Facebook te laai sodat luisteraars ook fisies kan sien wat in die ateljee gebeur.
Heartbeat FM is reeds in sy sesde bestaansjaar, maar twee jaar gelede het hul eerste tak op Oudtshoorn oopgemaak. Nel sê dit is egter net een van die nuwe vooruitsigte van die radiostasie.
"Ons het na 'n nuwe perseel in Langen-hovenweg geskuif waar ons 'n koffiewinkel na die inperking gaan oopmaak. Mense wat kom koffie drink kan dan deur 'n venster kyk en sien wat binne die studio aangaan en hoe ons die uitsendings doen en wie by ons agter die mikrofone kuier."
Volgens hom is daar nog 'n paar verrassings in die pyplyn, maar gaan hy nie nou al die aap uit die mou laat nie.
Volg hulle op hul Facebook-blad Heartbeat FM 107.4 of hul YouTube-kanaal Heartbeat TV.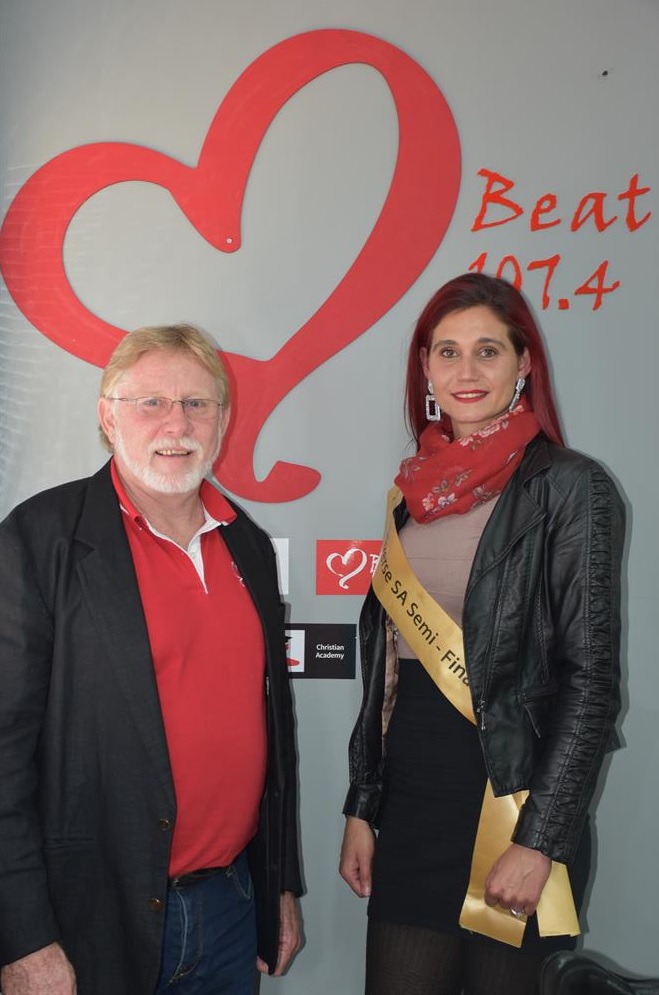 Pastoor Christo Nel en Bennedette Landman.
Die lewendige beeldsending van die onderhoud wat pastoor Christo Nel met Bennedette Landman gehad het.
Die virtuele studio van Heartbeat fm.
'Ons bring jou die nuutste Oudtshoorn, Klein Karoo nuus'