NASIONALE NUUS - Terwyl die dapper vegters teen die vure, helikopers in die lug, ambulanse met loeiende sirenes en weermagmanne in die woonbuurte die openbare oog gevang en die afgelope week as helde ontpop het, is daar ook die stille helde van die ramp wat van donker tot donker in 'n parkeergarage en in sale in en om Knysna geswoeg het om humanitêre hulp so spoedig moontlik by slagoffers van die ramp uit te kry.
'n Hele aantal van hierdie helde is mense wat self hul huise in vlamme sien opgaan en al hul besittings verloor het.
Tog het hulle aangemeld en soms met trane oor hul wange hard gewerk om mede-slagoffers behulpsaam te wees. Met die uitdeel van die eerste klere het juis een van hierdie helpers net 'n paar kledingstukke geneem en aangedring dat hulle eers die ander moet help voordat sy weer sal sien of daar iets vir haar oor is.
Die nood was reusagtig groot en almal wat vrywillig aangemeld het, het dit baie duidelik besef.
Helpers het van oraloor met bakkies, stasiewaens en motors opgedaag om met die aflaai van reuse trokke propvol kos, klere, beddegoed, toiletware en kombuisware, onder andere, te help.
Game het 'n vurkhyserdrywer, Russel Maart, vanaf Port Elizabeth gestuur om vir twee dae dae met die aflaai van die trokke te help. Twee dae het 'n week geword en teen Sondag het hy nog nie geweet wanneer hy teruggaan nie.
Sodra die een trok afgelaai is, arriveer daar weer twee of drie uit verskillende rigtings met skenkings deur winkels, kerke, skole, liefdadigheidsorganisasies en privaat persone. Die hele land se hande was duidelik wawyd oop.
Baie mense het met hul privaat voertuie oor groot afstande gereis om hul bydraes na Knysna te neem.
Ten einde die verspreiding van voedsel en hulpmiddels so glad moontlik onder leiding van die organisasie Gift of the Givers te laat verloop, is 'n hele vloer in Checkers se onderdakparkeergebied gesluit. Berge nie-bederfbare kos, klere, beddegoed, toiletware en kombuisgereedskap is hier versamel en weer in kleiner pakkies verdeel om aan rampslagoffers uitgedeel te word. Hier swoeg 'n groot aantal vrywilligers van donker tot donker om met die reuse taak te help.
So sal hulle met seer voete en al nog swoeg totdat elke geskenkte item die eindbestemming bereik.
En niemand kan voorspel wanneer die taak afgehandel sal wees nie.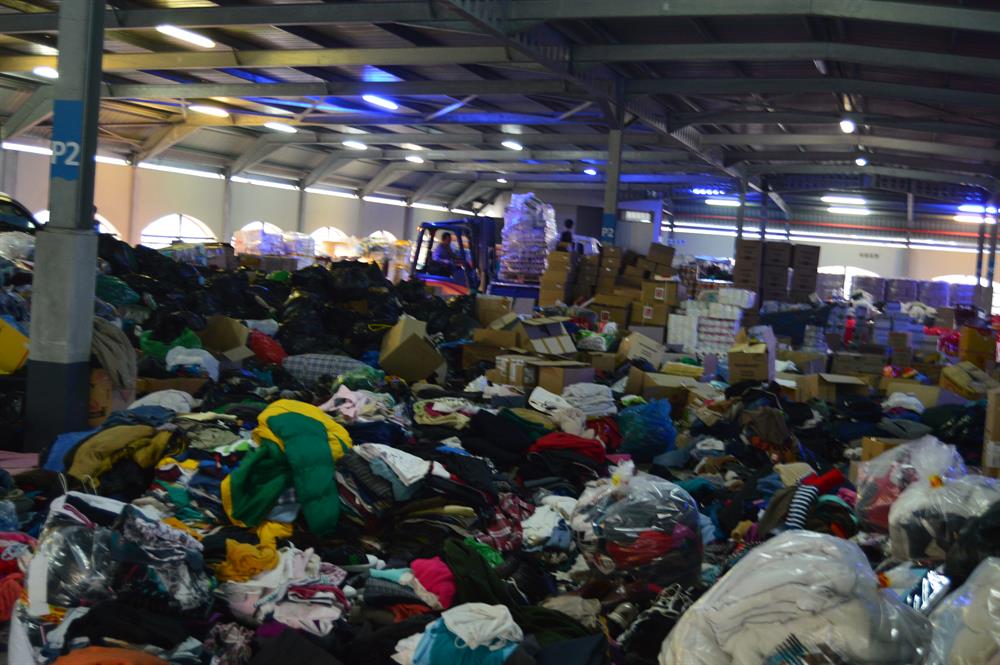 'n Deel van die berg klere wat by die aflaaipunt in Knysna ontvang is en gesorteer moet word voordat dit aan rampslagoffers uitgedeel kan word.
ARTIKEL: JANNIE MEYER
'Ons bring jou die nuutste Knysna, Tuinroete nuus'