Video
OUDTSHOORN NUUS EN VIDEO - Die identiteit van die motorbestuurder wat Dinsdagmiddag sowat 15 km buite Oudtshoorn in 'n botsing dood is, was teen gister nog onbekend.
Die man is op slag dood toe die gehuurde VW Polo waarmee hy in die rigting van George onderweg was 'n vragmotor reg van voor getref het.
Die Polo is onherkenbaar beskadig en die enjin het meters verder in die veld te lande gekom. Die impak het ook die vragmotor en sleepwa, wat 'n vol vrag saad gedra het, laat omslaan waarna die kajuit aan die brand geslaan het.
Die vragmotorbestuurder en sy passasier kon daarin slaag om uit die kajuit te ontsnap voordat dit heeltemal uitgebrand het.
Wrakstukke het oor die pad gesaai gelê. Volgens die bestuurder van die vragmotor, 'n boer van die Klaarstroom-omgewing, het die Polo van voor gekom toe dit skielik voor die vragmotor ingeswaai het.
"Dit het so vinnig gebeur. Die een oomblik was die Polo nog voor in die ry van omtrent vier of vyf karre en toe hy naby my kom het hy oor die sperstreep gery en reg van voor teen die trok vasgery. Ek kon die trok links hou, maar dit het toe omgeslaan en daar was omtrent dadelik vlamme."
Kyk 'n video hieronder:
Volgens die man het die Polo nie 'n ander motor verbygesteek nie en hy kon ook nie sien of iets soos 'n gebarste band die kar van rigting laat verander het nie.
Met die aankoms van die polisie op die toneel moes hulle ingryp waar nuuskieriges foto's van die toneel geneem het. Verskeie foto's en videos het toe reeds op sosiale media verskyn.
Die gedeelte van die pad tussen die afdraai na Blossoms en die Perdeskoendraai was vir bykans drie ure gesluit terwyl die polisie die toneel ondersoek het, die liggaam verwyder is en die wrakke uit die pad geneem is.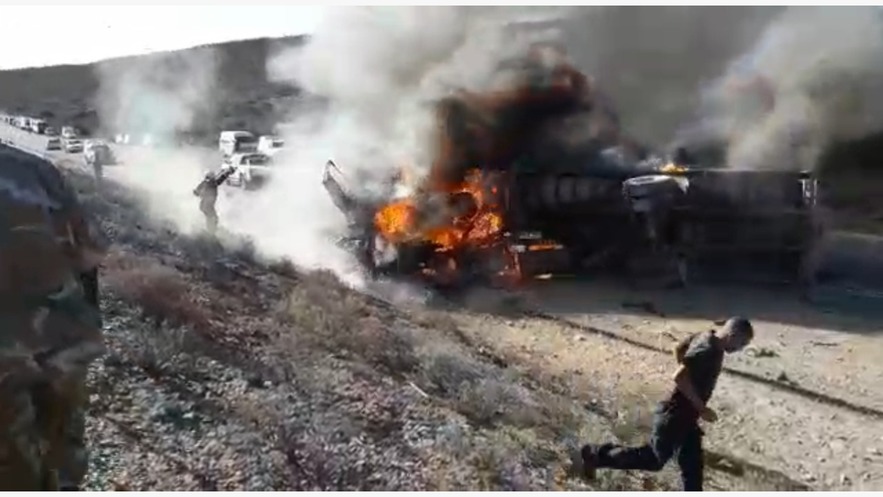 'n Skermgreep van 'n video wat 'n omstander van die botsingstoneel geneem het.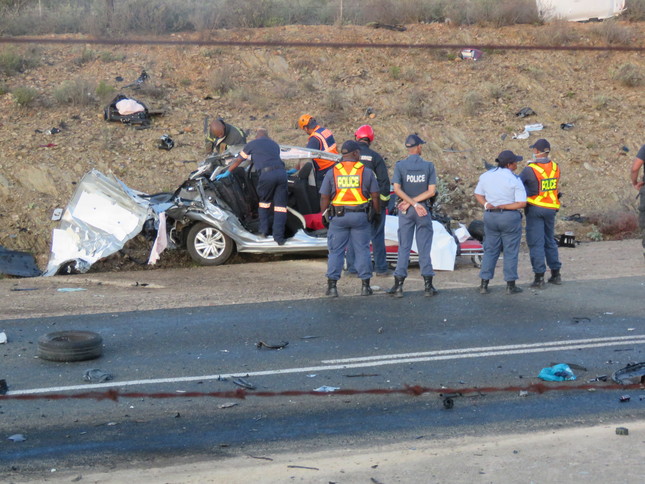 Polisiebaeamptes by die wrak van die motor voordat die liggaam verwyder is.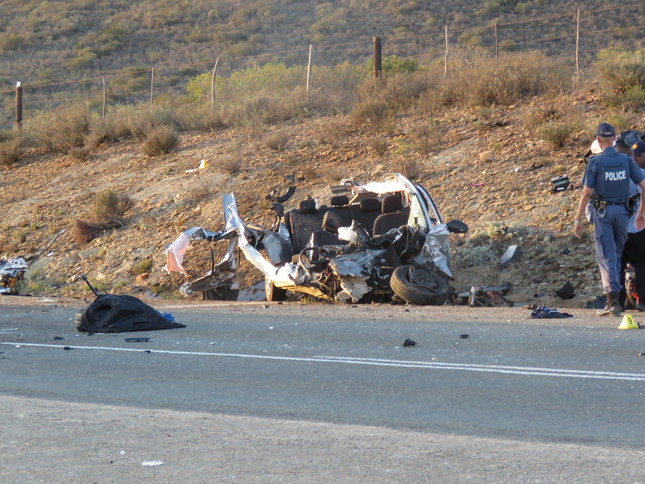 Wrakstukke van die VW Polo.
'Ons bring jou die nuutste Oudtshoorn, Klein Karoo nuus'