NATIONAL NEWS - As of Tuesday, 19 January 2021, the cumulative number of detected Covid-19 cases is 1,356,716 with 9,780 new cases identified, Health Minister Zweli Mkhize has confirmed.
839 more Covid-19 related deaths were reported, with 102 from Eastern Cape, 20 from Free State, 48 from Gauteng, 263 from Kwa-Zulu Natal (KZN), 238 from Limpopo, 11 from Mpumalanga, 25 from North West, 2 from Northern Cape and 130 from Western Cape.
This brings the total number of Covid-19 related deaths to 38,288.
ALSO READ: Third wave likely within months, say health experts
"The high number reported today is due to data reconciliation as part of the regular auditing process this includes the analysis of community data taking into account (amongst others): post mortem swabs, backlogged data and unconfirmed outcomes at facilities.
"We convey our condolences to the loved ones of the departed and thank the health workers that treated the deceased," the minister said.
Recoveries now stand at 1,144,857 representing a recovery rate of 84%.
Meanwhile, a total of 7,700,019 tests have been completed with 46,648 new tests conducted since the last report.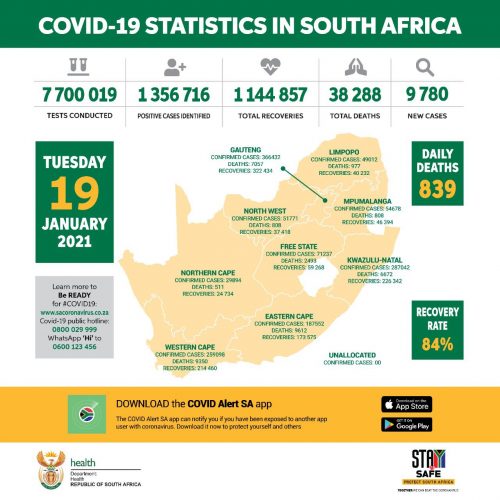 Here are the latest developments in the coronavirus crisis:
Travel bans
US President-elect Joe Biden's spokeswoman quickly dismisses Donald Trump's announcement that a ban on travellers arriving from much of Europe and Brazil will be lifted.
"In fact, we plan to strengthen public health measures around international travel in order to further mitigate the spread of Covid-19," tweets Biden's press secretary Jen Psaki.
One in eight infected
An estimated 12 percent of people in England had been infected with coronavirus by December last year, up from nine percent in November, according to official antibody data.
China's quarantine centre
Construction crews work around the clock to erect a vast quarantine facility on the outskirts of Shijiazhuang, to curb the northern city's growing outbreak.
Tennis menace
Two more Australian Open tennis players have tested positive for the virus, taking the Grand Slam's cluster to seven as the competition faces a backlash from a wary public in host city Melbourne, which emerged from a four-month lockdown in October.
Four wheels slump
New car sales in Europe last year suffered a record fall of nearly 24 percent due to the pandemic, the European Automobile Manufacturers' Association (ACEA) says.
Party pooper
Taiwan calls off its largest Lunar New Year lantern festival for the first time as authorities rush to stem a cluster in one of the few places to survive the pandemic largely unscathed.
The event, which typically sees up to a million visitors, was cancelled after four cases were linked to an outbreak at a hospital.
Germany's tighter curbs
Chancellor Angela Merkel and leaders of Germany's 16 states are expected to extend and tighten a partial lockdown beyond January, as fears grow over more contagious virus strains.
No miracle cure
A self-styled Sri Lankan holy man's supposed miracle potion to prevent Covid-19 turns sour after a minister who publicly drank it is hospitalised with the virus.
Pro-government media had given widespread publicity to the man, Dhammika Bandara, who claimed the formula was revealed to him by Kali, the Hindu goddess of death, destruction and evil.
Two million plus dead
At least 2,041,289 people have died of the virus since it first emerged in China in late 2019, according to a tally compiled by AFP on Tuesday based on official figures.
The US has suffered the highest death toll with 399,003 fatalities, followed by Brazil with 210,299 and India 152,556.
The number of deaths globally is broadly under-estimated. The toll is calculated from daily figures published by national health authorities and does not include later revisions by statistics agencies.