WESTERN CAPE NEWS - The Western Cape currently has 3309 active cases of Covid-19, with 4916 total confirmed cases, and 1607 recoveries.
This according to a statement by Premier Alan Winde this afternoon.
Total recoveries - 1 607
Total deaths - 95
Total active cases (currently infected patients) - 3 309
Total number of tests - 57 840
Patients in hospital - 167 with 62 in ICU
Further statistical data, including recoveries by sub-district, can be accessed on the data dashboard.
See the breakdowns below.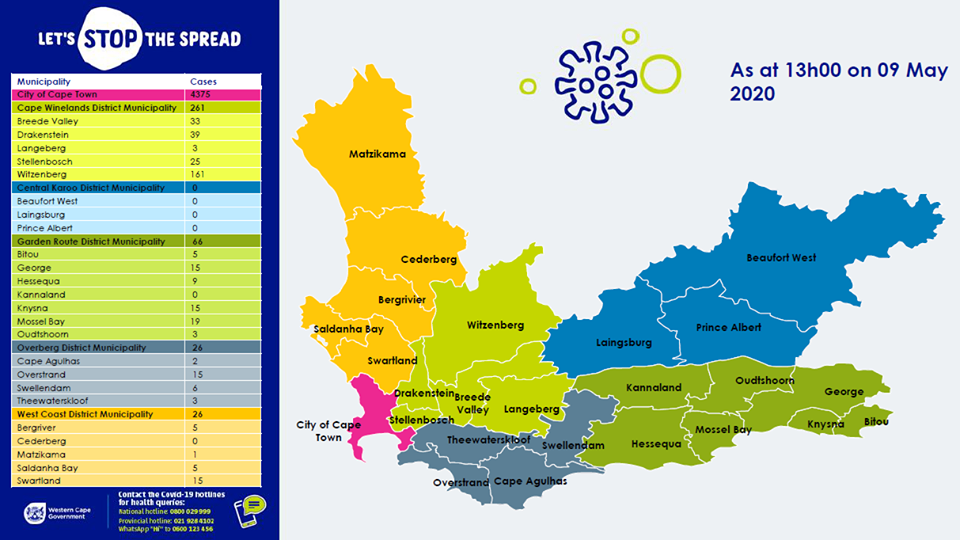 Bitou 5
Knysna 15
George 15
Hessequa 9
Mossel Bay 19
Oudtshoorn 3
The Western Cape has recorded an additional 8 Covid-19 deaths - bringing the total number of deaths from the virus in the province to 95. We extend our condolences to their loved ones at this time.
*A note on the number of tests
A test is only added to our total once we receive the results of the test. In the last 48 hours, we recorded the results of 7 552 on our dashboard, which increased from the previous 48-hour period.
The Western Cape's Evidence Based, Data Led Health Response to Covid-19
The Western Cape Government welcomed National Minister of Health, Zweli Mkhize, to our province today.
Provincial Minister of Health, Nomafrench Mbombo said: "Minister Mkhize met with public health experts in our Department who provided an update on our health response to Covid-19, including an analysis of Covid-19 related deaths in the province, our approach to responding to workplace clusters, and key clinical care pathways available."
Minister Mkhize indicated that he was satisfied and pleased with our health response plans that were presented to him, following the briefing.
A new phase of the pandemic, but we are not exceptional
As we reported to the public on Thursday, we noted that the Western Cape has established community transmission, and that the virus is spreading faster.
The Western Cape is in a new phase of this pandemic, but we are not exceptional in South Africa or even globally: every single province of the country will enter this phase with similar rates. This is the nature of a pandemic: the virus establishes itself in communities and it spreads exponentially.
We also noted that our death rate measured as a percentage of known cases remained in line with international data on the transmission of the virus (around 1,8%). As there are more cases, so the number of deaths in line with this rate will increase. These are the same trends for the country too.
In addition, we reflected on the comorbidities of patients who had died, and noted that those who have underlying health conditions, and those of an older age, are at the greatest risk. Minister Mkhize noted that these were similar trends in the rest of the country too.
Around 90% of people infected will not require hospitalisation.
Hard Lockdown bought us time to prepare, it did not stop the virus
A report on our health response was also provided. The Western Cape Government fully understands that Covid-19 cannot be stopped, and that it will continue to spread. The Hard Lockdown bought us time to prepare our health system, but it did not stop the virus. In fact, the infections being confirmed this week likely all took place during Hard Lockdown.
Minister Mbombo added: "Our job is to prepare for the peak of infections that is still to come, and to do this based on epidemiological evidence. This is what we have been doing through our scenario planning, and through the bringing online of temporary hospital facilities in time for the peak of the pandemic."
The Western Cape has adopted a targeted approach to our Covid-19 health response
The Western Cape Government has adopted a targeted, differentiated approach to our response, where data is drilled down to hotspots or pockets within communities. Our approach to these hotspots in the Metro and in rural areas like Witzenberg is based on this data, fully understanding that using a blunt measure for the entire province is neither smart nor effective. Our response is based on science and targeted data.
We welcome Minister Mkhize's commitment to increase testing capacity
We stressed our real concern at the growing backlog in testing, as a result of the ramping up of our testing. According to the NICD, between 4 March 2020 to 3 May 2020, 788 tests had been conducted for every 100 000 people in the Western Cape, in line with our active case finding approach where we target screening and testing on "bushfires" – or pockets of infections.
Extra capacity is urgently needed to clear the backlog, and to ensure a quicker turnaround time for tests results. The NHLS needs to be capacitated and resourced for this purpose, and we requested that the National Minister do so as soon as possible.
We welcome Minister Mkhize's commitment to addressing this backlog as testing is ramped up countrywide.
The Hard Lockdown has resulted in major humanitarian crisis
It is also important to remember that the effects of the pandemic are not just health related, and that the Hard Lockdown resulted in a major humanitarian crisis, the effects of which have been clear in the short term.
We are yet to understand the potentially much more devastating long-term nutritional and income effects of this Lockdown for our most vulnerable. What we do know, is that when countries become poorer, people suffer very directly, and average life spans go down. Our response is an "all of government" response that understands that we cannot allow our people to starve, and that businesses which are allowed to operate to ensure people can earn a living wage and feed their families, can be a key partner in helping us "flatten the curve" through ensuring guidelines are strictly adhered.
Our citizens too, are vital partners in this challenge – by following strict hygiene and social distancing protocols, they can play a role in protecting themselves and their loved ones.
'We bring you the latest Garden Route, Hessequa, Karoo news'