Video
OUDTSHOORN NUUS EN VIDEO - 'n Skouspel van trompoppies is besig om in Oudtshoorn af te speel in die 42ste Majorette and Cheerleading Association (SAMCA) kampioenskap op die REC.
Dié kampioenskap is in 2008 laas in Oudtshoorn aangebied.
Met die opening van die kampioenskap, het SAMCA se president, Wayne Oberem, Saterdagoggend gesê: "Dit is 'n eer vir SAMCA om die kampioenskap in Oudtshoorn te kan aanbied."
Hy het Oudtshoorn se mense as baie gasvry beskryf.
"Die gasvryheid maak die geleentheid net soveel meer aangenaam."
Oberem het Johny Bischof, SWD se Majorette and Cheerleading Association-voorsitter gelukgewens met die reëlings om van die kampioenskap 'n sukses te maak.
Die Wes-Kaapse minister van sport en kultuur, Anroux Marais, het in 'n skriftelike boodskap aan die organiseerder geskryf dat haar departement se missie is om daarna te streef om die jeug by sport betrokke te kry en te bemagtig.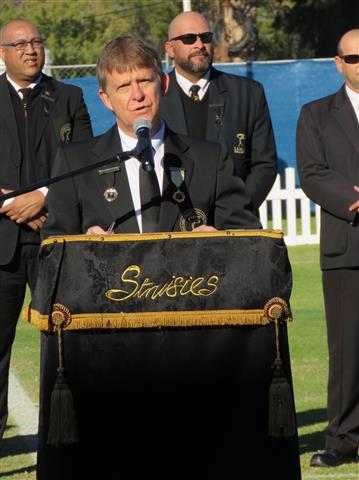 SAMCA se president, Wayne Oberem, aan die woord tydens Saterdag se Majorette and Cheerleading Association opening. Foto: Christo Vermaak
Die Cheerleading Association het die toeskouers Saterdag vermaak. Sondag, Maandag en Dinsdag het die laer en hoërskole Presidentligas plaasgevind.
Die Elite-kompetisie het vandag, Woensdag 4 Julie begin en eindig Saterdag 7 Julie om 23:00 met 'n afsluitingseremonie.
Kyk 'n video hieronder:
"Ons bring jou die nuutste Oudtshoorn, Klein Karoo nuus'