BUSINESS NEWS - Before this year's budget speech, South Africans were preparing themselves for more taxes. This had, after all, been the pattern for the last five years. Most commentators also thought it inevitable that Finance Minister Tito Mboweni would have to find more revenue from somewhere.
Early in his speech, however, the minister surprised the nation with the announcement that not only were taxes not going up, but that South Africans would actually be paying less tax.
"To support growth, we propose no major tax increases," he said. "Indeed, there is some real personal income tax relief."
This decision has been widely applauded. Not only has it taken a little bit of pressure off household finances, but it has allowed South Africans to feel just a little better about their situation.
A constant spiral of worsening fiscal statistics and higher taxes was feeding a growing sense of despair about the country's prospects. The finance minister at least broke that cycle, which he hopes will boost consumer confidence.
A limit had been reached
However, for all these positives, the decision may really have been out of Mboweni's hands.
As National Treasury economist Warren Harris noted after the budget: "There was a realisation that we've increased tax rates for the last five years, and for various reasons we haven't had as much success in raising the amount of revenue we wanted. So we couldn't credibly put forward proposals for large tax increases again."
Melanie Milleskie, a tax expert at Deloitte, expressed a similar sentiment at a briefing last week.
"There's an admission that substantial tax increases are likely to be ineffective and harm the economy's ability to recover," she said.
The numbers
Three figures illustrate this point.
The first is how personal income taxes have grown as a proportion of total taxes collected. As the chart below shows, they have increased every year for the last decade. From 34.26% of revenue in 2010, personal income taxes are expected to be 38.82% of all taxes collected for 2020.
Sources of tax revenue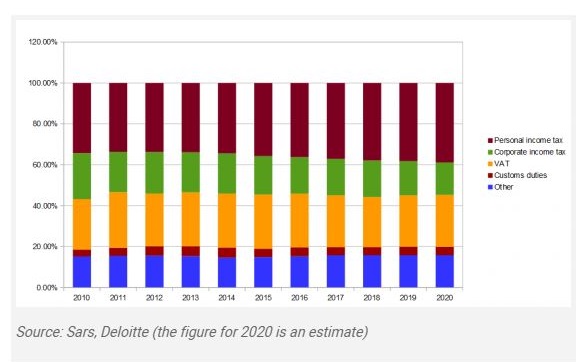 What is particularly telling about this graph is that personal income tax's share of total revenues has continued to increase, even after the government raised the value-added tax (Vat) rate in 2018. This shows the extent to which individual taxpayers have been squeezed.
In fact, despite the 1% increase, Vat's share of revenues is still lower than it was for the entire period from 2011 to 2016. This is because individuals are paying so much more.
The reality is that the amount that South Africans contribute in personal income taxes to the fiscus is extremely high. The average for Organisation for Economic Co-operation and Development (OECD) countries is just 24%.
Struggling to pay
Particularly in the current economy, it is obvious that this can't be pushed any higher. A second significant figure bears this out.
Estimates for the 2019/2020 tax year show that the South African Revenue Service (Sars) is likely to collect almost R25 billion less in personal income tax than projected in last year's budget. In other words, the money the government was hoping to take in from individuals simply isn't there.
There may be many reasons for this, including job losses and emigration. It is also likely that South Africans, in both legal and illegal ways, are finding ways to pay less.
That is an inevitable result of trying to force more out of taxpayers – they will look for ways around it.
Which is why the third notable figure is so important.
"Those with taxable incomes of R750 000 or more contribute 52% of all personal taxes," explained Isaac Matshego, an economist at Nedbank. "That is 574 000 people out of a population of 55 million that contribute almost 20% of all taxes in South Africa. This is partly the reason why government could not keep on squeezing the taxpayer, because the burden is carried by very few people."
The table below shows how narrow South Africa's tax base is. Those in just the three highest tax brackets are expected to pay the majority of personal income tax in the coming year.